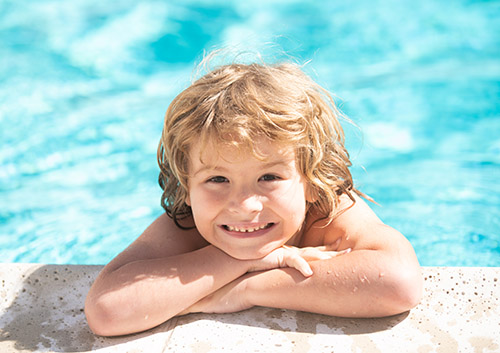 It seems like sharks are everywhere these days—on land, sea, and air(waves). A halftime show meme gone viral. A week of summer TV devoted to our favorite apex predators. And who doesn't have "Baby Shark" playing in their heads all day once they've heard it? But are we jumping the shark to discuss this topic in a dental blog?
Not at all! Because today, we're going to talk about shark teeth—just not the ones you might be expecting.
One of the expected sights when a shark opens its mouth are those rows and rows of shiny shark teeth. Sharks can grow from two to 15 rows of teeth at any one time (and some sharks have even more). This means sharp new teeth are always ready to replace any shark tooth which is lost, broken, or worn out.
An unexpected sight? When children point to their new adult tooth or teeth coming in—right behind their still-firmly rooted baby teeth! This double set of teeth is called "shark teeth," and, while it certainly might come as a surprise, it's not all that uncommon. But why do children develop shark teeth at all?
After all, baby, or primary, teeth have small roots, and are designed to come out easily when the adult teeth start arriving. When a permanent tooth starts to erupt, it pushes against the root of the baby tooth above it. This pressure gradually dissolves the root of the primary tooth, and with nothing to anchor it, it's now loose, wiggly, and ready to fall out. That's why baby teeth often look like they have no roots at all when they eventually wiggle free.
Sometimes, though, the roots of a primary tooth don't break down, which means baby teeth stay right where they are. It also means that the permanent teeth have to erupt somewhere else—usually behind those stubborn little baby teeth.
Shark teeth can first appear around the ages of five to seven when the permanent front teeth start arriving, or several years later, when the adult molars begin to come in. Any extra teeth in one small jaw naturally cause concerns about crowding and misalignment, especially when those extra teeth are molars. Fortunately, treatment is generally uncomplicated.
If the baby tooth is loose, time (and wiggling) might take care of the problem. But if the primary tooth or teeth just won't budge, even after several weeks, it's a good idea to schedule a visit with Dr. Huynh and Dr. Parks—especially if your child is experiencing pain or discomfort.
An extraction is often suggested when a baby tooth has overstayed its welcome. Because of its smaller root, extracting a primary tooth is usually a straightforward procedure. Dr. Huynh and Dr. Parks can let you know all the details, and can discuss sedation options if they're appropriate for your child.
Whether baby teeth are left to fall out on their own, or given some assistance, most often your child's permanent tooth will start moving to its proper position as soon as the space is available.
Unlike sharks, we don't have an endless supply of replacement teeth, so it's understandable to worry when you see anything unexpected. If you want to know more about shark teeth, or if you have any concerns, don't hesitate to call our McKinney, TX office for expert advice.